Top 15 Of The Coolest Offices Around The Globe
15 Of The Coolest Offices Around The Globe
ThinkGarden – Milan, Italy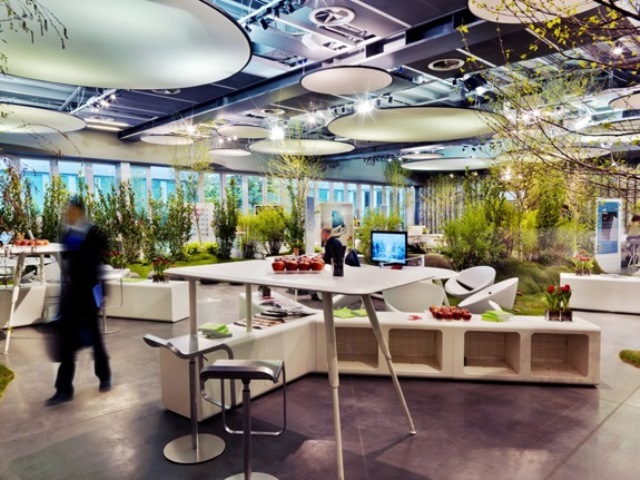 Warning: a certain amount of envy will be felt. While most offices would rather use gray for most of their interior design, sticking to what has been the office norm since well – forever, there has recently been an upsurge of other companies that think otherwise. Some offices actually encourage color in the office by creating a surprisingly fun environment, leaving the employees actually content and happy. While most of us think of vomiting when headed to the office, the inhabitants of these offices legitimately consider the office as their second home! Can't blame them though. I would love to even live at my office if it made eating a #1 priority like at one Google office where it is almost impossible to be 100 meters away from food. Or at Youtube where you could swim, flex your abs at the gym or even get a full body massage ALL during office-hours.We would like to believe that these company's introduced this type of environment with full confidence that this will increase the effectiveness and even tenure of most employees. Although it might already be visible that with these cool offices, you immediately see how the energetic vibe and colorful environment affects the company's output. Check our top 15 legitimately coolest offices from around the globe in no particular order because they're all just way too cool!The whole office is designed to look and even feel like an actual forest, recreating nature with large plants, flowers, stone shaped bean bags, actual trees. Talk about a refreshing environment to work in!
Zappos – Las Vegas, Nevada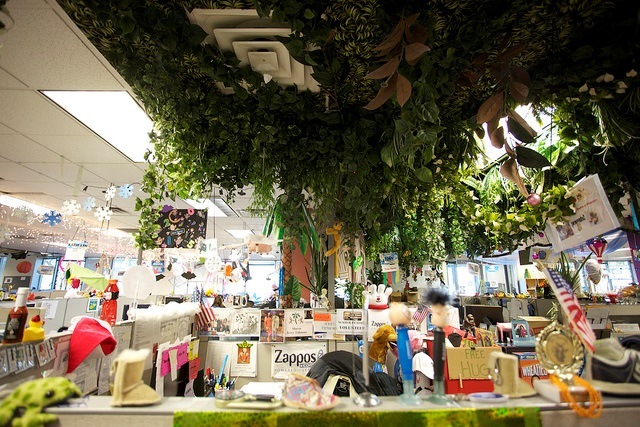 You probably don't know yet, but Zappos is the world's largest online shoe retailer. Even if they stuck to the regular corporate cubicle,they were able to put a little twist to it as they let each employee have their own little imprint into the office design. They give entire freedom to their employees when decorating their cubicle!
Google Office – Zurich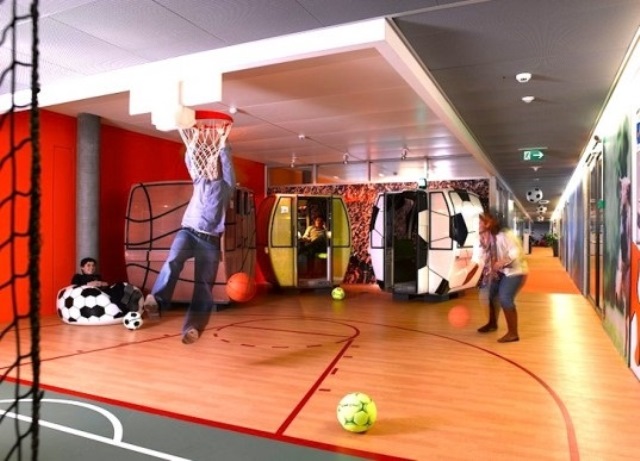 Some might say that Google pioneered these kinds of office spaces. Working for one of the world's biggest companies has its perks. MASSIVE perks that is. With a perfect mix of business wand pleasure, Google is almost never short of creative and effective individuals working their way around the office. Add a rule that everyone must be within 100 meters of food at all times, a bastketball court, fireman's poles scattered around the building and many more, some people would even prefer to live in one of their offices!
Corus Quay – Toronto, Canada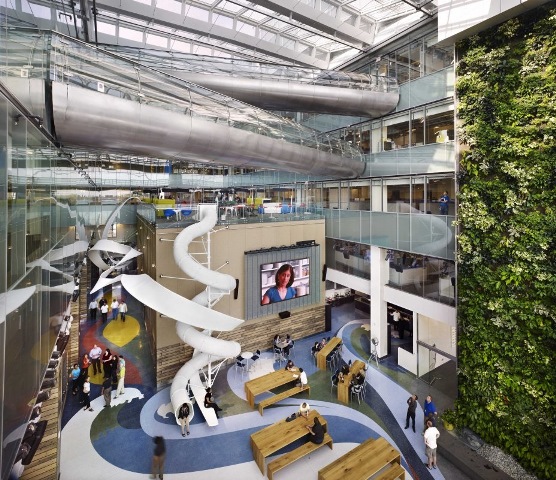 One of the more larger offices on the list, this massive 500,000 square feet office offers an equally massive amount of fun! Dubbed as Toronto's smartest building, it has a large collection of office amenities you would be surprised to even find there. Just look at the photo!
Big In Japan – Dallas, Texas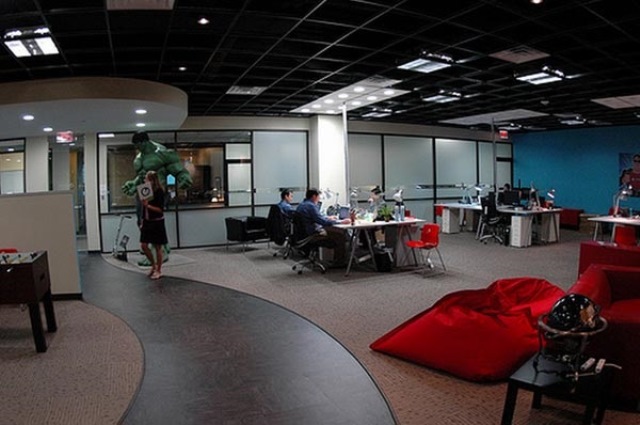 Another tech company that only started in 2008, Big In Japan is a Dallas based mobile app developer famous for their award winning, barcode scanning app; ShopSavvy. Focusing on open plan working and endless quirky decorations and even including a nine foot Hulk statue, this tech office knows tech office. Relaxation may be attained by playing Rock Band or by simply lying down on the bean bag which is just heaven, or the good ol' fussball game.
Google Office – Pittsburgh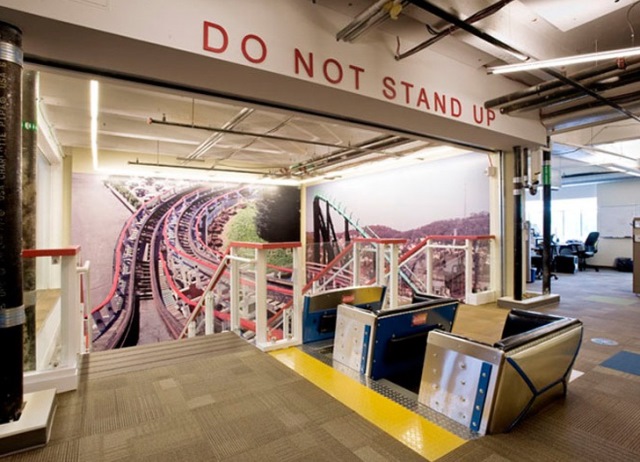 Here's another cool Google office on the list. The environment is almost the same as the first one we featured plus a two-story conference room, a giant overhanging hamock, and is themed towards the local Pittsburgh theme part attractions.
Traction Marketing Group – Oklahoma City, Oklahoma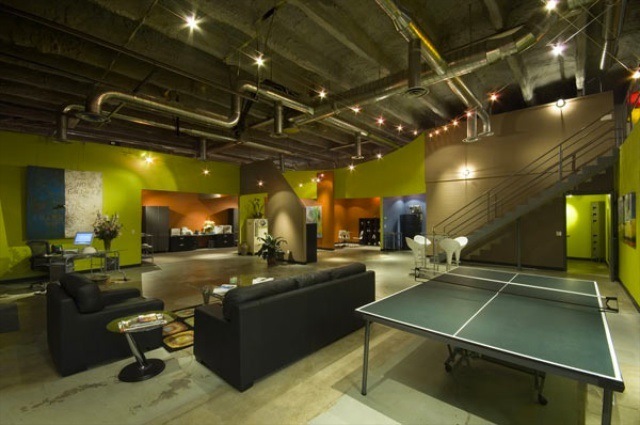 Here's another warehouse office splashed with coolness. They designed the warehouse envirnoment in a way that they employees would not feel that they weren't even at the office. Traction Marketing also took away the regular florescent lighting and used spot ad festoon lighting that swings down across the ping-pong table plus a massive glass garage sized door floods the entire office with natural light.
AOL Head Quarters – Palo Alto, California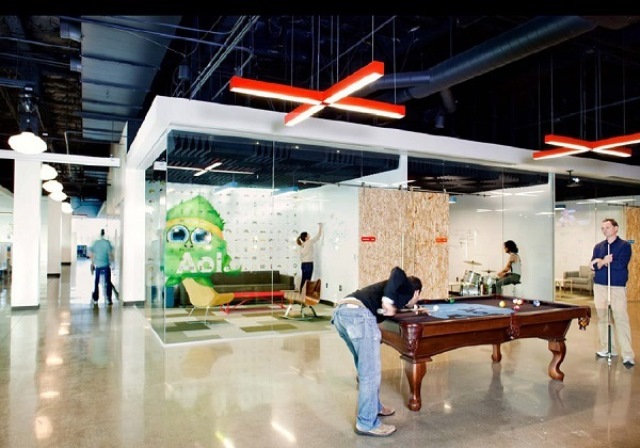 The once gigantic company may have lost its gleaming smile but recently a massive overhaul of their headquarters had been made, maybe even giving a sign of the company's long awaited rebirth. With large kitchens, relaxation areas, pool tables, game rooms and vibrant colors all over, looks like they're on the right track.
YouTube – San Bruno, California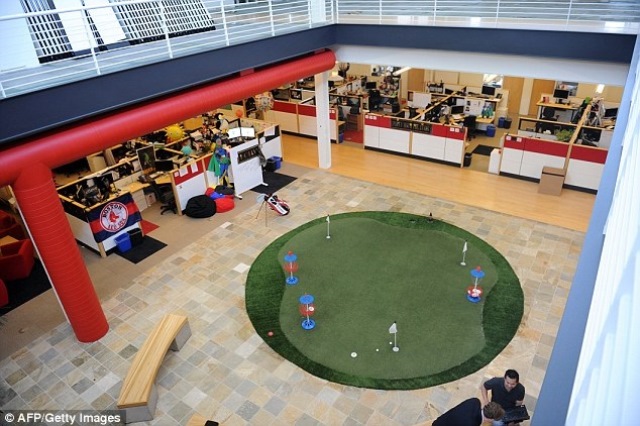 After its acquisition, Google transformed the Youtube office into a clone of theirs. And that isn't bad. You know what to expect from here. Yeap, nowhere near bad.
Pallotta TeamWorks – Los Angeles, California

The designers made use of the small $40 per square foot budget to design the building by thinking out of the box and eventually creating an office environment out of – boxes. Effectively transforming a  bunch of shipping containers to become one of the coolest offices ever. The low office cost is only fitting for a company that raises tens of millions of dollars each year for charity.
Red Bull Office – Soho, London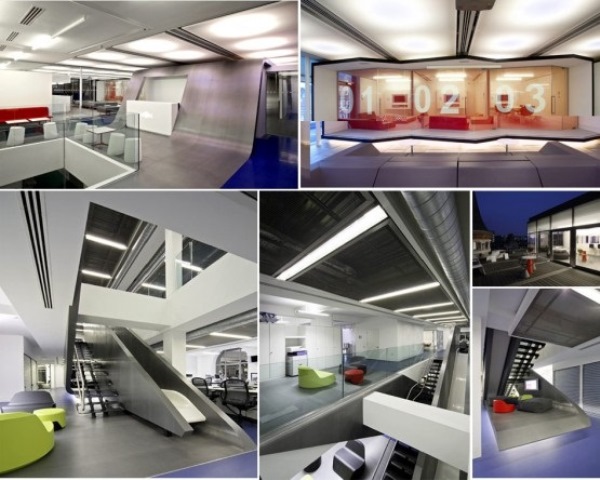 What else would you expect from a company that sold pure energy in cans? With the average employe age within the 20's mark, a creative and fun environment would definitely increase productivity. With a reception that turns into a bar at night, what 20 year old creative genius would not want to work here.
Selgas Cano – Madrid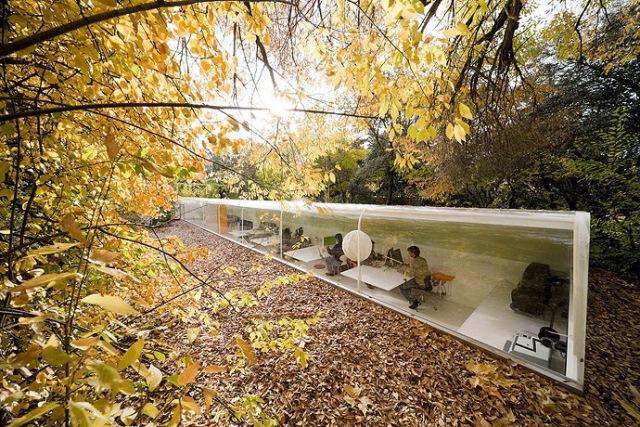 Designed by Iwan Baan the small albeit unique office is situated in a forest near Madrid, Spain, and is a few inches into the ground. The architects are inspired by the awesome natural lighting with clean lines and colorful details.
Lego – Denmark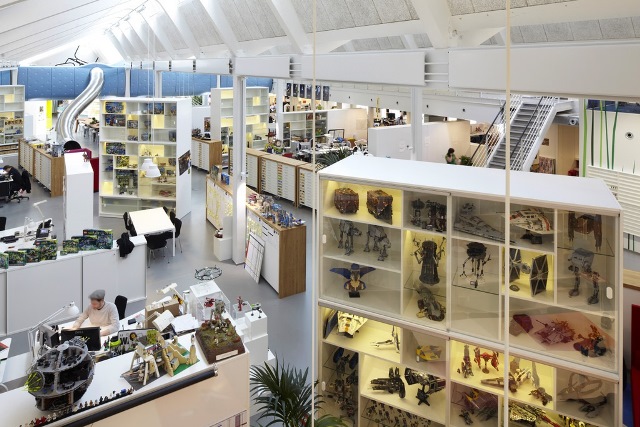 If you did not go through LEGO's as a child, you probably missed one of the most awesome toys ever created. Not only was it fun, it encouraged innovation and creativity. And what else would you expect from their office? Nothing magic, its employees claim, giving you a place where imagination meets reality.
Facebook – Palo Alto, California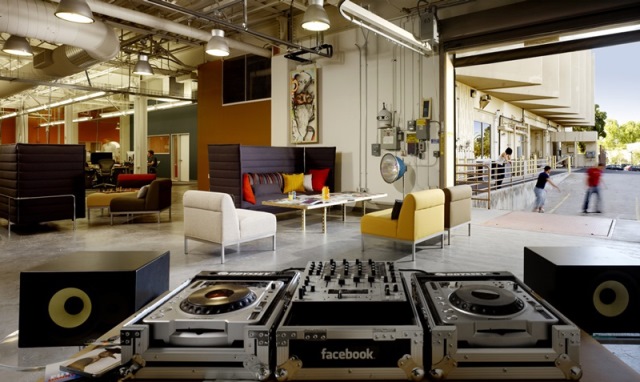 To pair with how the company slowly grew into one of the biggest and influential websites the world has ever seen, they created on of the most incredible work environments ever, attracting the youngest and most intelligent employees from around the globe. Whether it's getting massages, skating, unlimited food and even Djing, this place has got it all.