25 Designs Guaranteed to Make Things Fit in the Smallest Places
Designs Guaranteed to make things fit in the smallest places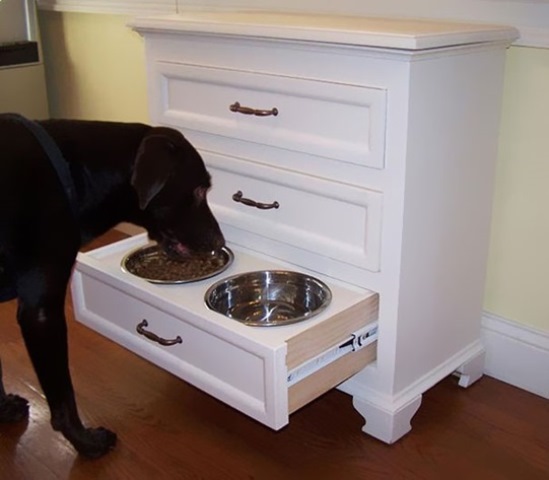 Have you always wanted to save space inside your house?  It can get pretty exhausting to fit a lot of furniture inside your home, right?  At times, your house might look way too cramped up, as if there was hardly any space to move around.  Yet, you only have to look into the following designs, because these will surely give you more room to move around inside your home as freely as possible.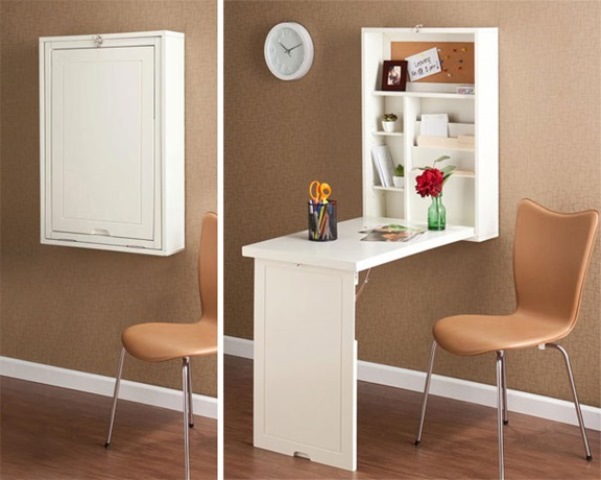 When it's not in use, it looks like a regular cabinet on the wall. However, you only need to fold it down to see what it really is. It's pretty much your very own desk too. If your kids are looking to make school projects, the storage space inside stores everything they will ever need.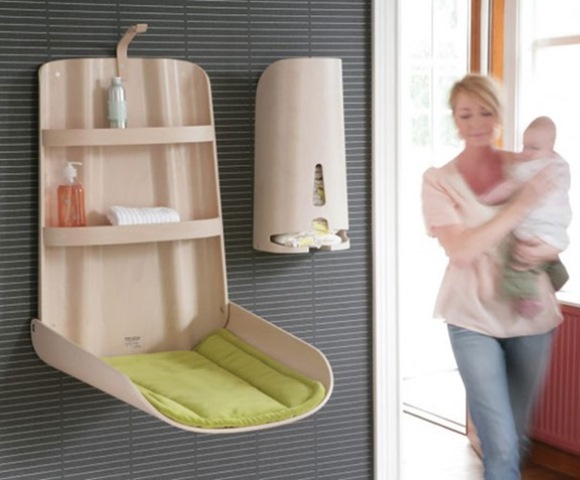 You don't want to make a mess on just any table in your house when you're changing your baby's diapers. You want something like this, a combination of a care product storage box and a changing table. What's even better is the fact that you can just have these installed on the walls. At least you have a designated space to take care of your little one's needs.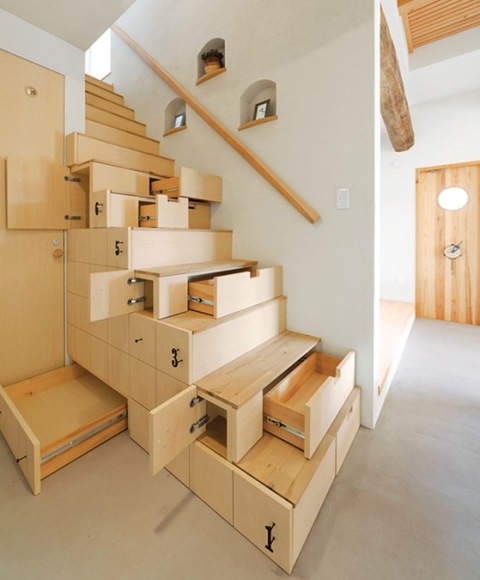 Staircases can serve different functions apart from being that section in your house that allows you to walk up and down between different floors. In fact, if you've got a pretty sizeable staircase area, you can transform it into a bunch of drawers and shelves too. You won't need to buy cabinets anymore. This one's pretty space-saving on its own, and you'll have a really neat looking home.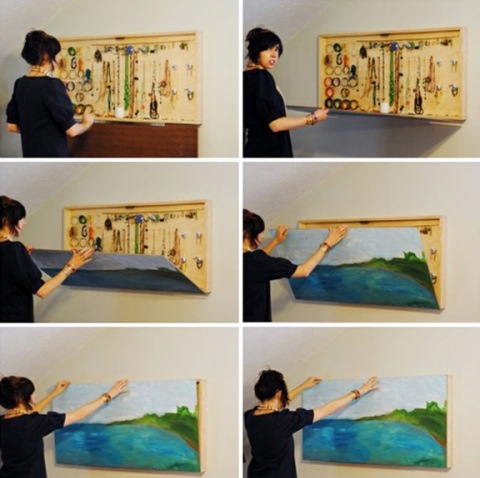 Imagine this — your friends come over for a visit. They admire everything inside your house, how it's also so spacious and neat. They come across this painting, which looks pretty classy. You also forgot to wear some trinkets because they were there to fetch you in preparation for a night out during the weekend. You then pull the painting down to reveal what is practically a storage space for all your accessories. Surely they'd be wowed with your space saving ways.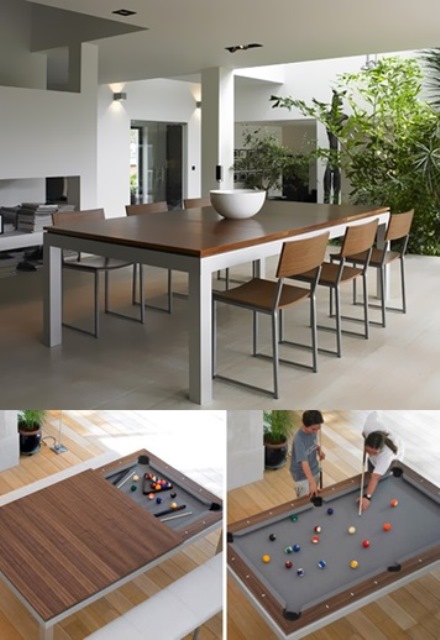 You've had quite a filling feast for Thanksgiving. Your relatives & friends would like to engage in a bit of recreation with you, but you don't have any board games and the like. You do, however, have this: a dinner table which also doubles as a billiard table. The fun ensues.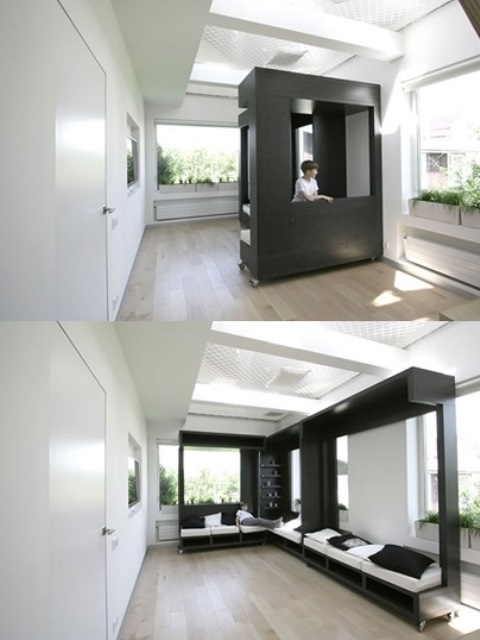 Have you heard of modular furniture? This one was made by RueTemple, and we're pretty impressed with it. It looks like a regular lounge area inside the house. However, it can also be converted into a three-part living room area. Heck, you can even sleep on it, technically converting it into your own bedroom.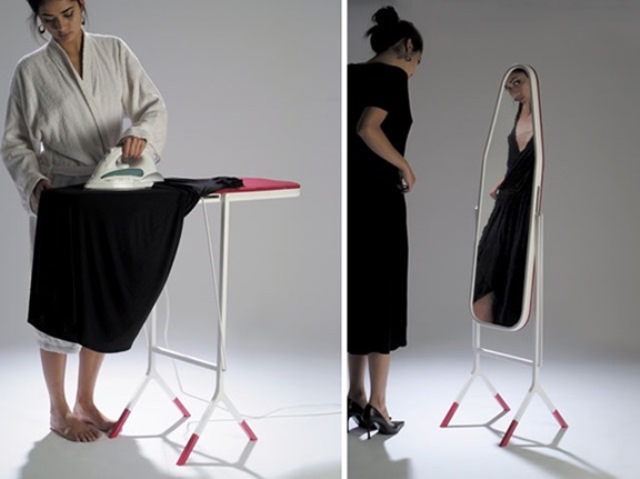 This is something we're seeing more of these days. A mirror that can be turned into an ironing board makes for great space saving. Besides, after you've ironed your clothes, you'd want to make sure it looks good on you, right? Talk about practical, wouldn't you agree?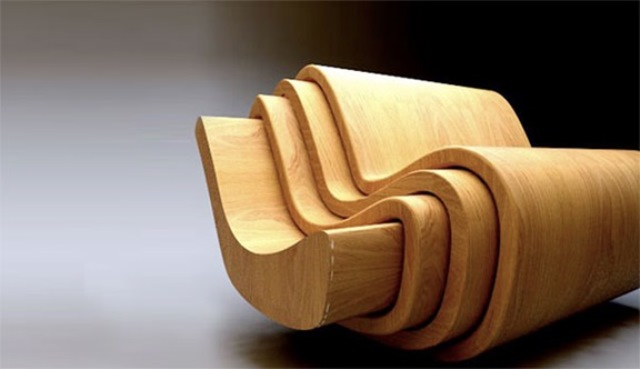 How about this? You've got 4 chairs in one package. You'll only need to pull one or all of them out if ever you have guests coming over for a visit. If you're all by yourself, you just put them all back in and give yourself more room inside the house for moving around. Isn't that ingenious?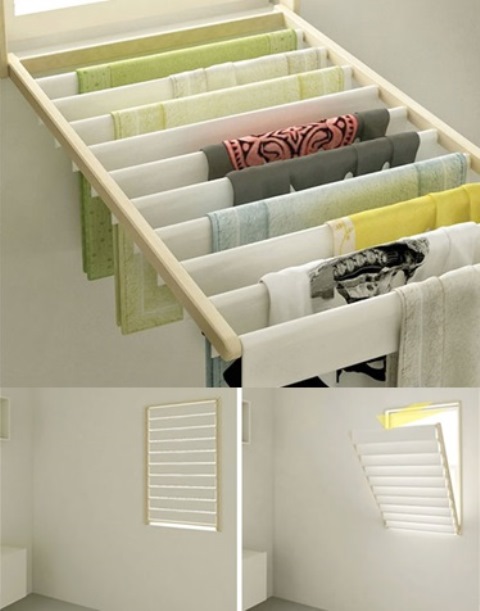 It sure would be nice to have window blinds to keep some unneeded sunlight away from heating up your room, wouldn't it? However, you also need to make sure your freshly laundered clothes dry up pretty quickly. Hence, this should make for a great alternative to both concerns. Is this a work of genius or what?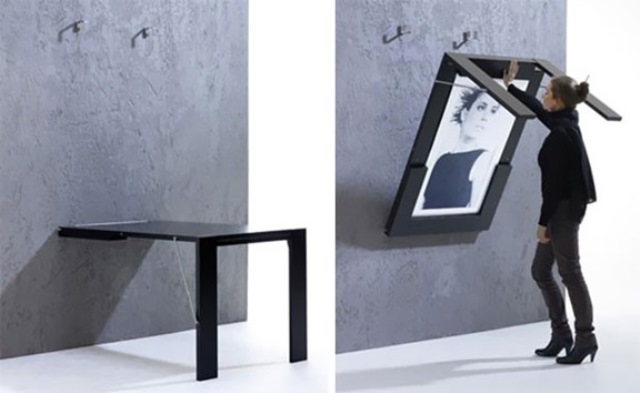 Ever wondered what it'd be like to have an art piece that also serves a fully functional purpose? That's what you get with this folding table. When you're done using it, you can just fold it back to the wall and it doubles as a photo frame or even an art showcase. What's not to love about this, really?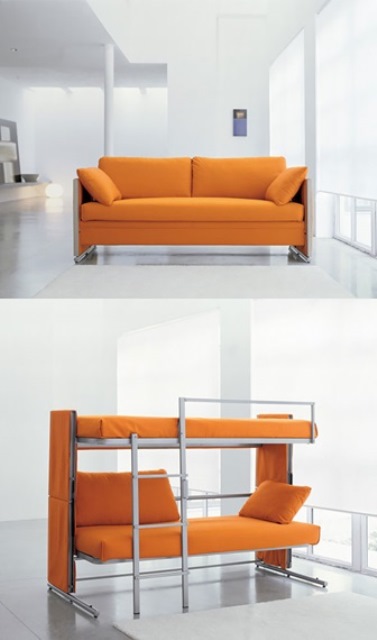 Sofa beds are always welcome treats if you want to maximize the space inside your home. However, if you've got two kids or even a roommate, it makes more sense to get a bunk bed. Combine that with the sofa bed concept, and you've got this. Now that's some real space saving, so to speak.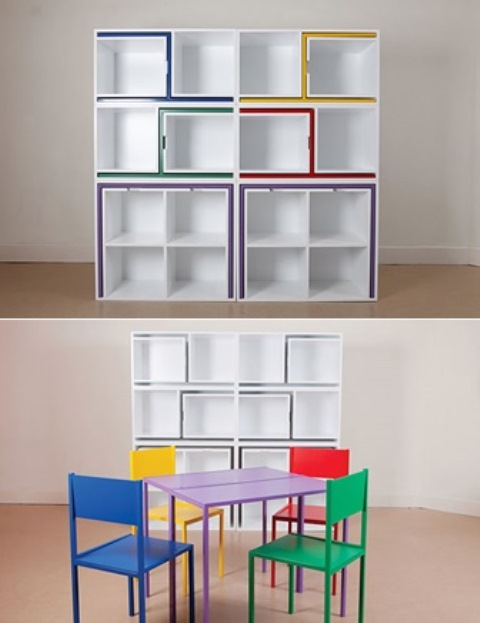 From the onset, it looks like a display stand for figurines, collectibles and smaller furniture. However, you can also pull out a table and chairs from this. Isn't that cool? Having the entire set come in different colors is also a very nice touch. Maybe it looks a bit too much like the kindergarten variety, but it could work well if you're living with kids.
Do you regularly eat sushi? If not all the time, I'm sure you'd like to make your very own at some point. However, sushi knives usually come in sets. You don't want to put them all up in a rack in the kitchen, though. You'd want to be a minimalist about it, and this really makes that happen for you. It's practically knife-ception, a knife within a knife, within another knife and so on.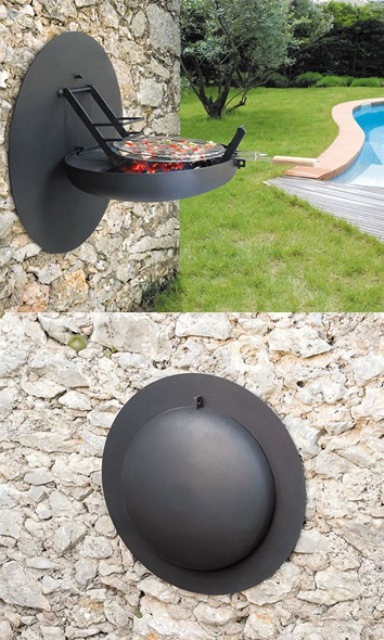 If you've got a backyard area in your residence, this will definitely come in handy. It's great for all those barbecue parties you host on the weekends. You don't need to buy any actual grills anymore, because this one's just perfect. Once you're done, you just put it back up on the wall like any regular abstract ornament.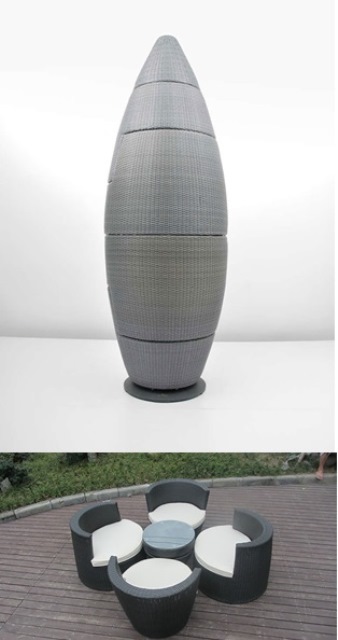 Here's a beautiful set of chairs and a table stacked into an interesting conversation art piece. Your friends would probably wonder why you have a huge pillar in the middle of the room. That's only because you're saving space, right? Whenever they need to sit down and chill, you'll just have to put down each individual piece and voila, you have an instant coffee table.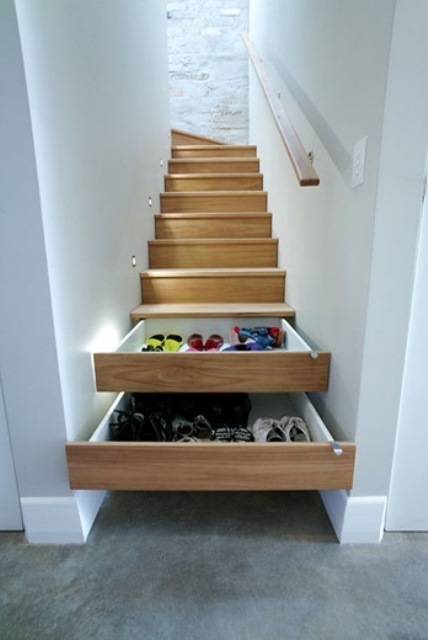 This is pretty much the same concept as the staircase full of drawers and shelves that we've shown earlier. At the same time, it's also quite different. You can pull the drawers from the first few steps of the staircase to reveal a storage area for your shoes. If you've got pets in the house, this is a pretty good idea to implement. After all, you don't want your footwear to be all mangled up from nonstop chewing, especially if your dogs are still teething.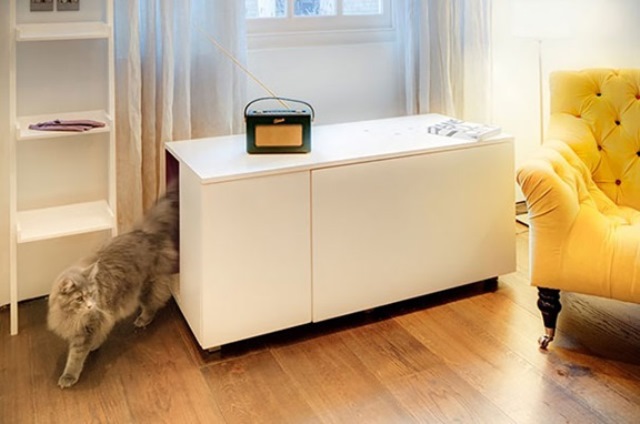 Do you find it infuriating when your pet cat decides to litter around wherever she likes? The litter box you bought also takes up way more space than you expected. Hence, you'll be glad you came across this living room table. It looks like any ordinary piece of furniture, but it also doubles as your kitty's personal litter space right inside. At the same time, that also means you'll have to clean up pronto if you don't want to stink up the living room.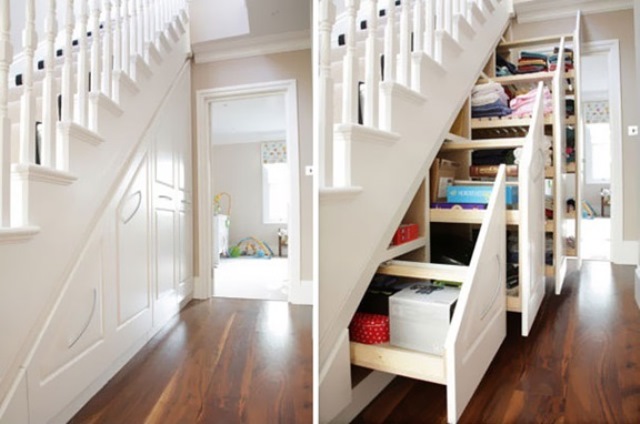 We love staircase storage concepts, okay? There, we just had to say it. That's why we can't get enough of designs like these. They're just too good to be ignored, and can totally make your house look like it was properly cleaned up. Besides, the design for this is pretty impressive, one that has a rather artistic touch to it. Sign us up for one of these, thank you very much.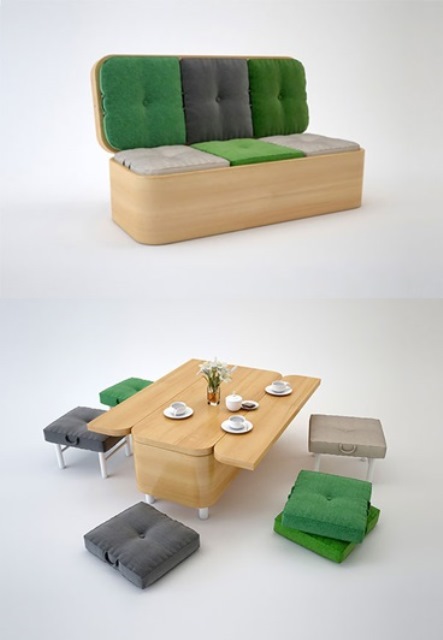 Convertible furniture are all the rage these days. This one is no exception. What looks like a pretty eclectic sofa made for comfort and relaxation also serves another purpose. Pull everything down and you have a mini-dinner table. We love the minimalist approach in interior design and this fits right up our alley.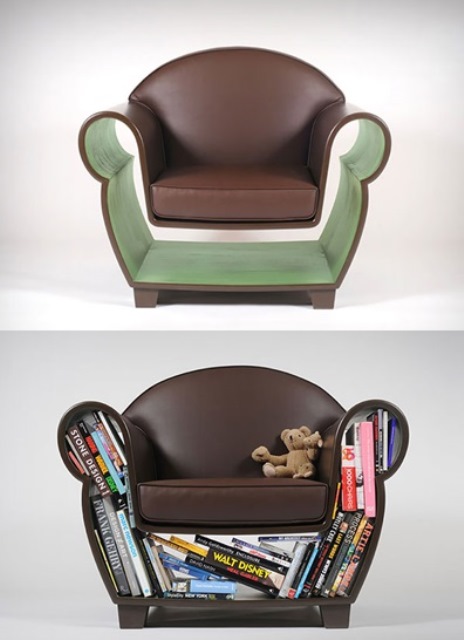 Sometimes, you get easily bored just sitting down on the sofa. You'd want to do some light reading, but you don't want to get up off the sofa and grab a few books & magazines off the shelves. You can, however, make use of this, which is a magazine & book rack inside your couch. That's what we call convenience at its finest.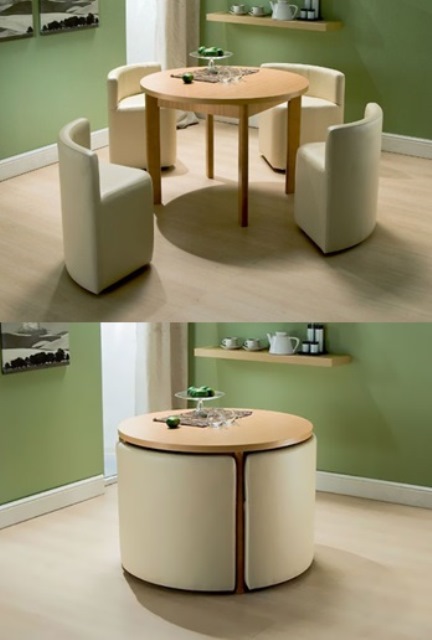 Well, this looks like something that every space saving person should have in their home. Sure, it's not exactly the most novel concept, but it does look good. Being able to push your chairs in from under the table to make it look like a rather unique looking piece of furniture? Count us in for this!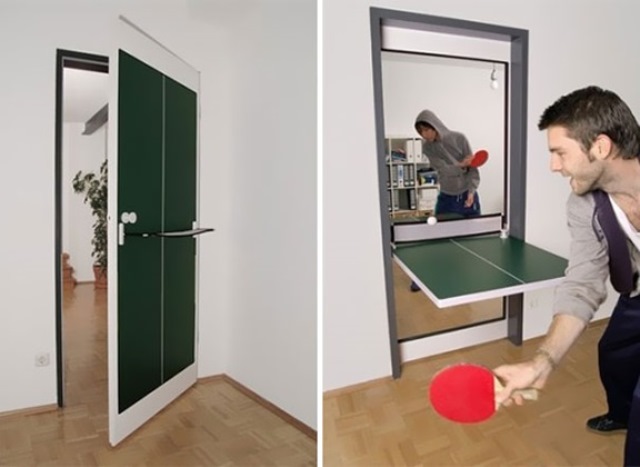 You wish you could have some room for leisure and recreation inside your home. However, you just don't have enough space. Well, here's an idea. Why don't you convert your door into a ping pong table? It's a novel idea and one that would get you and your friends to have a bit more fun inside the house aside from your regular conversations.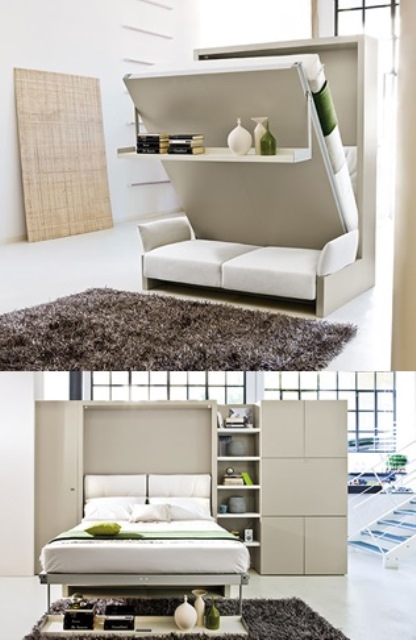 You've seen foldable beds everywhere. They are quite the effective space savers, if you ask me. This one's a little different, however. If you're not taking a nap or getting a good night's rest, you can just fold it back up and it serves as a display stand for all your collectibles & small furniture.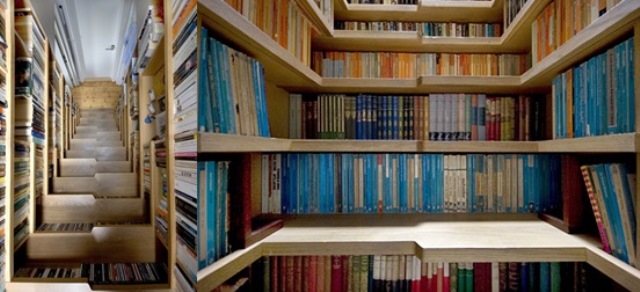 You're an avid book reader. However, you just don't have a lot of room inside the house for your collection of readable material. Hence, you should definitely consider getting something like this. Not only will you have a functional staircase, but also your very own library. We're pretty sure your book loving friends will have much to admire about this as well.